Meet Paul and Andrea.  On December 11th around 3:30pm they became engaged and thus started a new and exciting chapter in their relationship.
—————–> Check out the SLIDESHOW for more on the surprise propsal <—————–
It started off with a with a simple email I received from Paul about a month before the actual proposal.  The first line read "I would like you to play a very important part in my life".  Turns out that Paul is uber romantic and wanted to surprise his girlfriend Andrea of four years with a surprise proposal.  Paul wanted this moment to be special and memorable; he wanted the moment to be captured as it unfolded.  He wanted me to document it all! Words cannot express how excited I was to work with him.  The next few weeks following that email, Paul and I collaborated on ideas of how and when to pop the question.  I felt so excited, especially for Andrea!  I am a big fan of surprise anythings i.e birthday parties, flowers, and especially engagements.  This sweet and romantic plan that Paul had arranged I knew would be enough to make her melt :).
The day had finally come; it was a sunny Saturday afternoon.  At around 2pm, Paul and Andrea set off for Ellis Island.  Little did Andrea know, that when she returned home both of their lives would be changed forever.  Paul grabbed her hand and led her to a secluded area of Ellis Island with sweeping views of the Manhattan skyline and Statue of Liberty.  The rest is history...
Checking out her gorgeous ring; good job Paul! :)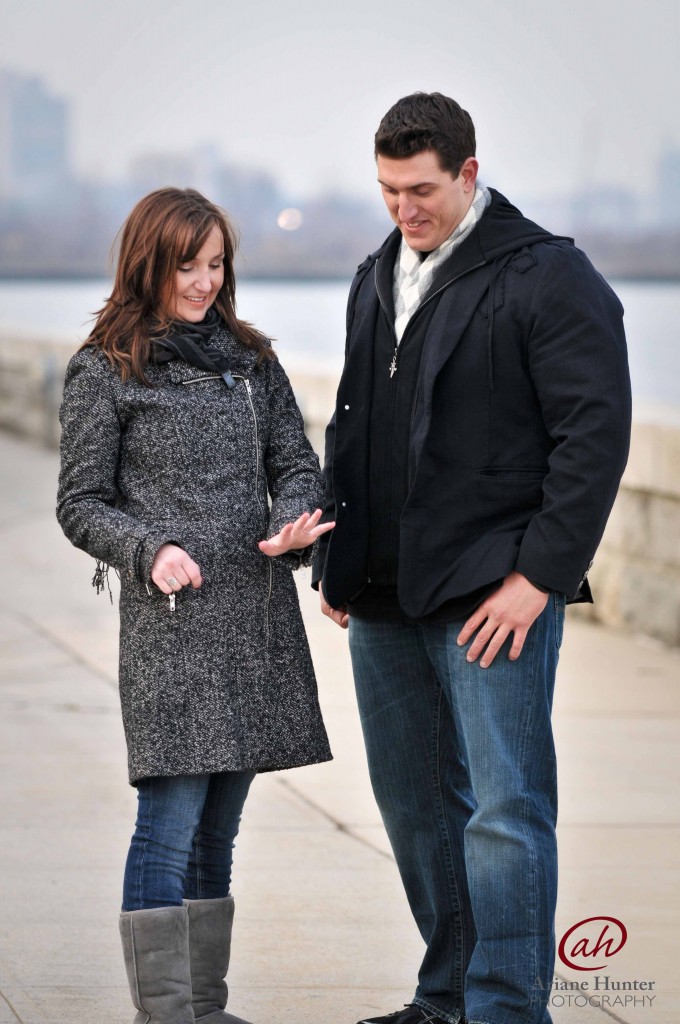 The jig is up; Andrea finally spots me!
Andrea soon realizes the lengths that Paul has gone through to plan one of the most important moments of their lives.  Andrea, Paul is a good egg.  You're a really lucky girl :).
High five to Paul for pulling off this grand plan to surprise Andrea with a proposal to be his wife.  It was such a memorable event that I know you both won't soon forget :).  Thank you for the sincere pleasure of allowing me to capture this beautiful time in your lives.  I wish you two alllllll of the happiness in the world.
Don't forget to see their
slideshow
for behind the scenes photos
!
UPDATE
: Andrea and Paul's surprise engagement proposal story is featured on:
Lovely Little Details
.
See Beauty...
Ariane